We are part of the Trust Project
The MLK Pop-Up Food Park returned to South Dallas this summer, moving from Martin Luther King Boulevard to a new location in Fair Park.
The popular event featuring Black-owned food vendors launched in spring 2021. Desiree "Dee" Powell, who managed the initial food park for Better Block and The Real Estate Council, was determined to make the temporary park a permanent fixture in our neighborhood.
Powell is an urban planner and executive director of Do Right By The Streets, and says her main motivator for the MLK Food Park was to create a safe space for businesses of color.
"I want it to be welcoming for people who look like me as a Black woman or as a person of color."
She pulled together original vendors and recruited new ones for two more events in 2021, in July and September. Folks in the South Dallas community embraced the flavors and the gathering space.
Powell says vendors are able to advertise their businesses and establish a community network. The majority of the businesses are based in or started in South Dallas, she says.
This summer's MLK Food Park pop-up on four Sundays in June and July is a partnership with Fair Park First. Alyssa Arnold, the director of strategic initiatives at Fair Park First, oversees the short term and long term goals for Fair Park.
"Just from seeing the first event introduce people to the community, we want to reintroduce, or just introduce, people to Fair Park," Arnold says. "We want to bring people to the campus so they can see it as a part of their space and not an island, and what better way to bring people together than with food?"
For residents of South Dallas, the food park is a great way to come together as a community, show support for local small businesses and enjoy a variety of music and food, Powell says.
The majority of the food vendors are focused on healthy food options, like Yazzi Cake's vegan styled baked goods or Sassy's Vegetarian Soul Food's meals, Powell says. 
"We want people to see the food park as a space that can provide these alternatives like vegan options, vegetarian options, just healthy options," she says. "We want it to start to open up more dialogue of how this can be done at a community development level."
The event also includes small businesses ranging from jewelry shops to herb stores. Powell says she really wants entrepreneurs to build a community with their fellow vendors.
"There've been other events I've done where the organizers just put it together, but Dee takes such good care of you. It feels like one big barbecue," says Zeni Demissie, owner of Infused by Zen. "Everyone knows each other and is out here supporting each other," 
The initial food park was held on Martin Luther King Boulevard down the street from the Forest Theater and Cornerstone Baptist Church, then moved a few blocks closer to Fair Park in a space across from the Martin Luther King Jr. Community Center. This first two events this summer were located outdoors, behind the former Natural History Museum in Fair Park. Vendors say it has less visibility, and wonder if that's why the turnout hasn't been as good compared to last year.
"Last year it was closer to the street and I remember people telling me they were just driving by and decided to check it out," says Bri Taylor, owner of Bri Bakes.
Taylor hopes turnout will improve as the pop-ups continue.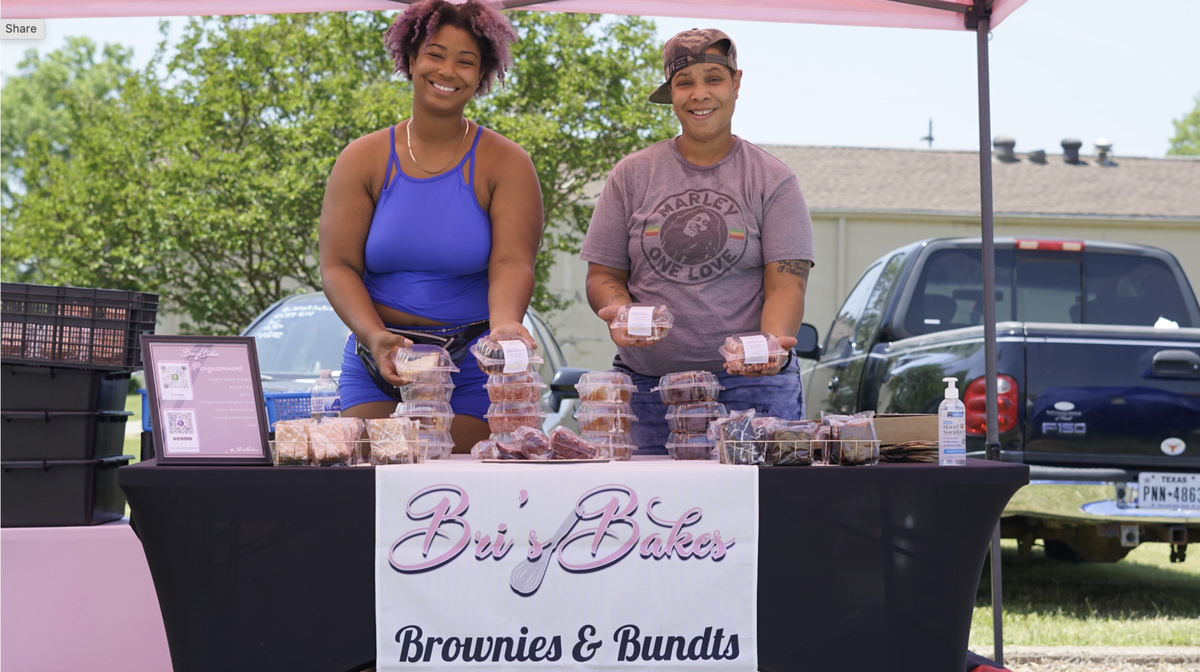 Due to this summer's triple-digit temperatures, last Sunday's event was moved inside the National History Museum building, Powell says.
"It's right next to the lot we've been utilizing for the food park. With this heat being so overwhelming, we want to curate a safer space for folks to gather," Powell says.
This summer's final MLK Food Park at Fair Park is this Sunday, July 31, noon-4 p.m, and again will be held inside the museum building.