We are part of the Trust Project
South Dallas' newest summer attraction resides along South Malcolm X Boulevard, sandwiched between Marburg and Southland streets. Once a vacant parking lot next to a DART bus station, Malcolm X Plaza is now a multi-use gathering space for family and friends with a broader goal, organizers say, to improve public safety on one of the most violent blocks in the South Dallas neighborhood.
Tramonica Brown, founder of the nonprofit Not My Son, can see the plaza from her office window right across the street. Since the plaza's opening at the start of the summer, she has watched neighbors come together for movie nights, mutual aid campaigns and community dinners.
"This is building a great sense of community, which I think was something that in that little corridor was missing," Brown says.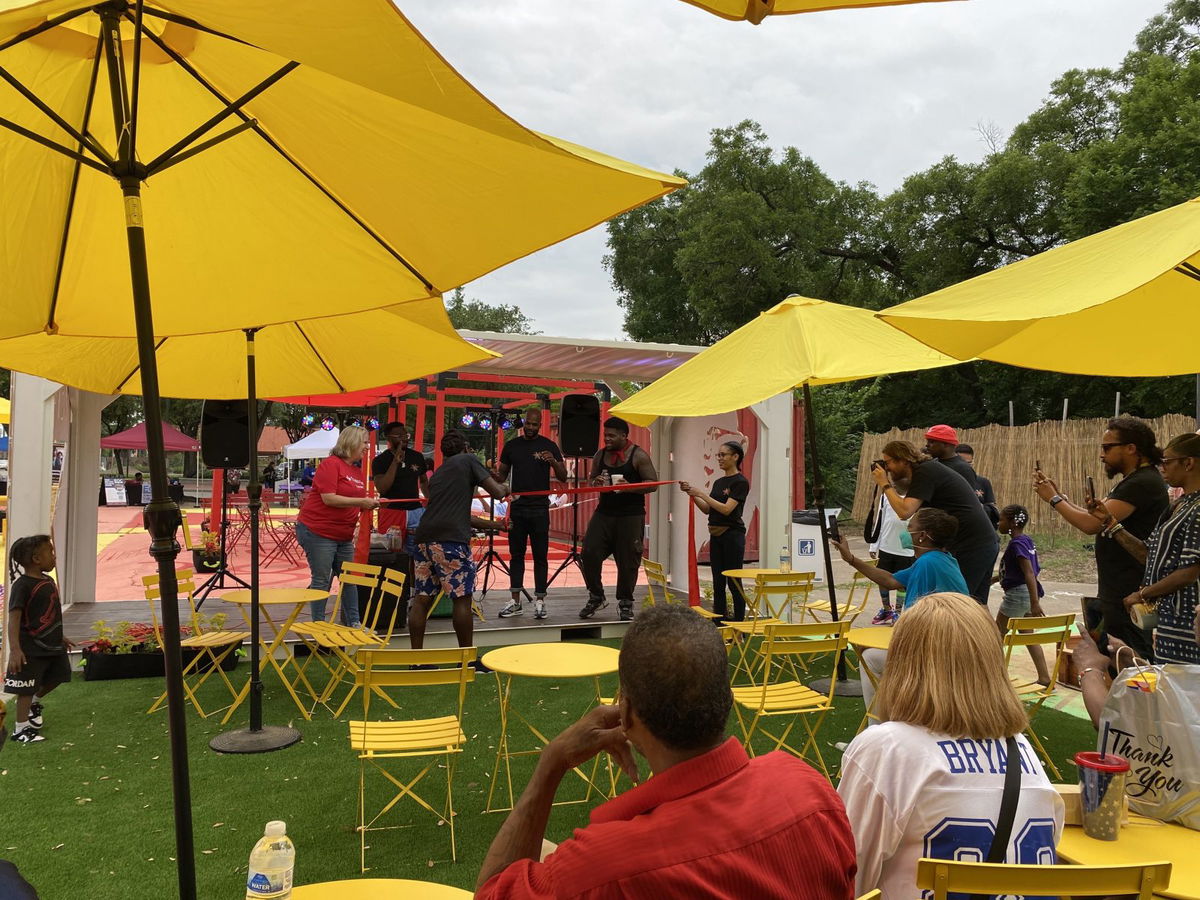 Mutual aid groups like Robin Hood Inc. have taken the lead in making sure there are regular events in the plaza, such as weekend movie nights and community meals on Sunday evenings. United People's Coalition organizes water and ice campaigns several times a week. Brown says these community activities give nonprofits like Not My Son unequivocal access to help underserved populations like the homeless.
"Now we have immediate access, whereas normally [the unhoused] would kind of, you know, go back and forth up the street," Brown says. In the weeks since the plaza opened, Not My Son has helped find homes for more than 10 people, she says.
'The Dead Zone'
Before the plaza opened, Brown says the intersection of S. Malcolm X Boulevard and Marburg Street was known as "The Dead Zone."
That's why Owen Wilson-Chavez, Senior Analytics Director of Child Poverty Action Lab (CPAL) says this was the perfect spot for a plaza. CPAL is spearheading the project.
"We look at how we can identify areas where gun violence or the risk of gun violence is occurring. This was one of the highest areas based on data from 2019," says Wilson-Chavez.
Wilson-Chavez' research found that this particular city block in South Dallas was 564 times more likely to see violent gun crime than any of the other 35,744 blocks in the southeastern section of the city.
Research shows trauma from gun violence trauma can cause "anger, withdrawal, post traumatic stress, and desensitization to violence" in children, encouraging the cyclical nature of poverty and creating barriers to success, says Wilson-Chavez..
In fall 2021, CPAL's team began talking to residents who live within the quarter mile radius of the vacant parking lot. They organized focus groups and facilitated conversations with local businesses and through groups like Sunny South Nutrition, Robin Hood Inc. and United People's Coalition.
Through a partnership with Better Block, a nonprofit that gives communities tools to grow their neighborhoods, and a donation of $100,000 from Santander Consumer USA Foundation, CPAL had the resources to create what they say community members asked for: a plaza.
When the plaza opened on June 3, filled with children playing basketball and running around the sports course, residents like Deidra Wilson were smiling, hopeful for the prospect of positive change.
"I am really excited about it," Wilson says. She lives just a block away. "I think it's really good for the community. It'll keep these kids out of trouble and give them something to do."
Kristin Lieber, senior project manager at Better Block, hoped that the Malcolm X Plaza would encourage residents to engage with this once vacant block.
Leiber says residents are often fearful of empty lots because of "bad activities." By revamping the parking lot to provide a new functionality to the space, Lieber says it incentivizes the community to make it their own, to look after it.
CPAL has remained involved by observing the plaza's day-to-day usage. Their on-site office is a former shipping container retrofitted with electricity and air-conditioning. CPAL also is continuing to analyze Dallas Police Department data, such as emergency calls and arrests, within a ¼-mile radius of the plaza. They also plan to distribute surveys to measure resident satisfaction in the neighborhood surrounding the plaza.
"I would love to see some re-envisioning happen with everyone along here on Malcolm X and really rethink how they navigate street life and interaction with the community. Whatever [direction] the community takes it in is always wonderful," Lieber says.
Has this model worked elsewhere in Dallas?
In summer 2019, the federal Department of Justice reached out to Better Block to find ways to change the dynamics of the Vickery Meadows neighborhood in northeast Dallas. Wilson Chavez says police initiatives in the Five Points neighborhood were failing, and they wanted to come up with an innovative way to reduce the number of shootings.
Better Block created the TBK Bank Plaza, the first pop up plaza that Better Block and CPAL teamed up to create. Wilson Chavez says their studies showed that the gathering space reduced crime in the ethnically diverse neighborhood.
CPAL analyzed the plaza for the six months it was open by tracking incidents of gun crime and violent gun crime within the quarter mile radius from the TBK Bank plaza. This police crime data on Better Block's website is unclear of the plaza's true impact as it relates to crime.
CPAL struggled to measure the full 12-month run of the TBK Bank Plaza because of the onset of the pandemic, Wilson Chavez says. The Malcolm X Plaza project timeline is three months. Following its closing, Better Block will reopen a pop-up plaza at Forest and Audelia from October through November.
Six weeks later
It's been six weeks since the plaza opened, and with triple digit temperatures, Brown says the plaza is pretty empty during the day.
"No one is coming out until 5," she says. Sometimes, there is no redemption from the heat until after 8 p.m.
"I think [the plaza] is a great idea, I just think they really honestly missed the mark with not accounting for Texas heat," Brown says.
Ricky Wilkerson, director of Robinhood Inc, says he's not going to let the Texas heat get in the way. He says he's started movies after dark, and sometimes the community dinners go on until midnight.
"We don't mind getting a late start because of the heat," Wilkerson says. "We don't let nothing get in our way of getting out to start doing work."
However, Wilkerson and Brown share a mutual concern about what will happen once the plaza disappears. CPAL says they have funding in place for only 3 months. At the end of August, Better Block will dismantle the plaza, returning the parking lot to its austere beginnings. While Brown or Wilkerson could entertain taking over and caring for the space, Brown says it wouldn't be easy.
"There would be several hoops to jump through, including getting city ordinances for the space," Brown explains.
She's still grateful for the resources — even if they are temporary.
"I think it's a great breather to let other organizations know that we're here doing things, and when this is gone in three months, Not My Son will still be here as a sustainable resource."
The Malcolm X Plaza plans to host a variety of activities, from hip-hop spin classes to community meals every Sunday from 12-2pm. While the space is free to use, interested residents and business owners are asked to reserve the space online.