We are part of the Trust Project
Nine-year old Ava Thompson Hollins says her mom signed her up for swim classes at Park South YMCA because "ballet just hurt my toes."
Ava's mom Amye Thompson Hollins says she actually wanted her daughter to be "more confident around water." 
Ava began swimming at the Park South YMCA when she was 2 years old in a Mommy and Me class. When she was 7, she joined the Park South Sharks swim team in its inaugural year.
"Most of the Safety Around Water program at the Park South Y feeds our swim program," Thompson-Hollins says. "Most of the kids that end up on the swim team did so because they just successfully completed lessons of safety around water."
After training for about a year, Ava and the swim team began competing. Earlier this month, she competed for the second time in the four-day long YMCA Lone Star State Swim Meet with the Southeast Sharks, formerly the Park South Sharks, at Frisco ISD's natatorium. The Park South Sharks joined forces with the White Rock YMCA to create a larger, more competitive team after team numbers depleted over the summer.
Last year, Madel Perez coached the Sharks into a fifth-place victory in the regional competition against teams from Houston, Austin and the DFW area as well as Oklahoma, Mississippi and Louisiana.

Perez says what made this such a remarkable win was that the South Dallas Sharks were one of the few teams with a diverse group of students.
"Our team is 95% brown — Latino and African American," Perez says. "Swimming is not typically considered an African American or Latino sport."
Perez is now the Regional Aquatics Director for the YMCA overseeing Park South, T. Boone Pickens and Grand Prairie. She says the team was created to change "the mentality in South Dallas about swimming."
Perez says 80% to 85% of the community is "non-swimming" and that raises concerns of increased deaths, especially among children. Studies show that nearly 60% of all African-American children are unable to swim and minority children are three times more likely to drown. 
Jennifer Pewitt, Associate Vice President for Aquatics and the Southern Sector, says the swim team was the latest Park South Y program designed to encourage water safety.
For more than 20 years, the YMCA of Metropolitan Dallas has partnered with Children's Hospital to promote water safety through programs such as Know Before You Go, which provides tips for drowning prevention to parents. They also have a program where students from area schools receive swim lessons during their school day. Pewitt says this Urban Swim program was heavily impacted by the pandemic, but students at neighboring schools still use it. After completing eight lessons, participants receive a certificate and a family membership to the YMCA.
In 2010, Park South Y also launched the Apartment Community Program using apartment community pools to teach children from area complexes to swim at no cost.
"Our goal moving forward is for our efforts and outreach swim to be year round," Pewitt says.
The swim team is a year-round program, and Perez says the benefits for children have gone beyond just learning how to keep your head above water.
"I think now we have kids that have completely transformed. You know their behavior, their attitudes, the way that they speak. They want to work harder."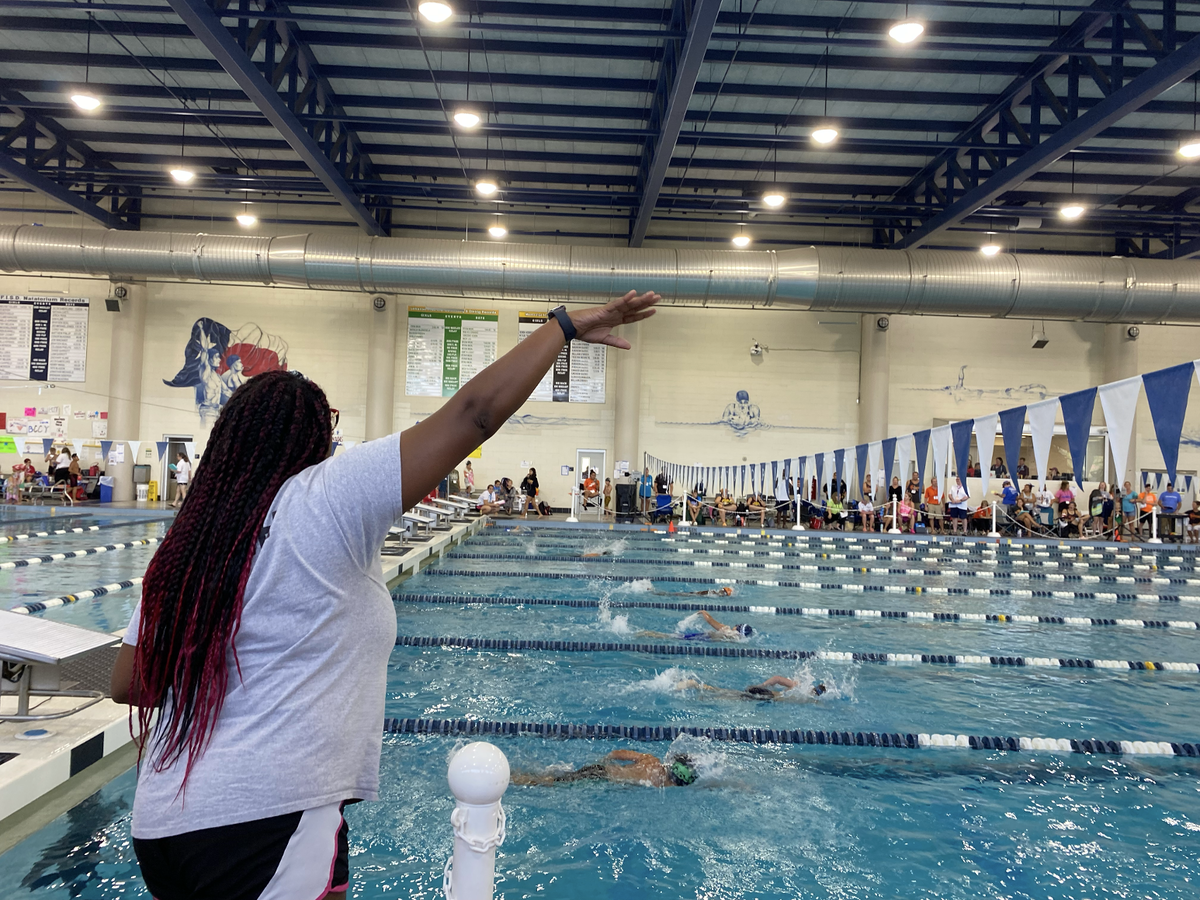 Godfrey is now coming up on her second year with the YMCA and beginning her first with the team.
"It gives them a sense of a family oriented place because we all have to be working in the water together all the time."
Hollins says there are still hurdles to joining a swim team, especially for South Dallas families. Practice for the Southeast Sharks is at 4:30 p.m. every day.
"I think there's still some work that could be done on how available [swim team] is because most southern sector kids, inner city kids, are taking advantage of some kind of after school program because the parents are usually having to work until five if not later."
With practices straddled between the Park South Y and the White Rock Y, transportation and logistics can be difficult for parents. Still, Hollins says the benefits of being on the swim team have outweighed the costs.
"We have a child who can participate in a team sport at a young age, like 4 years old, and learn how to work on a team. The confidence that they get yielding to authority, having that responsibility, it teaches them a lot that is going to help them as they go into higher grades in school."
For more information on the Southeast Sharks, email pssharks@ymcadallas.org.