We are part of the Trust Project
When Freda Robinson read about a new community grocery store in South Dallas' Forest District, she wanted to know why there wasn't something like that in the Highland Hills neighborhood she grew up in.
"Why can't we get something like this? Why can't we get a neighborhood store? This is embarrassing to me."
Robinson, 60, remembers shopping at a family-owned fresh foods market when she was growing up. But, when the owner retired, no one filled the space. A couple of convenience stores and a Dollar Store have come in, but no supermarket with fresh fruits and vegetables.
Then five years ago, Save-A-Lot opened in the neighborhood at Stuart Simpson and Bonnie View roads, thanks to a $2.8 million grant from the city of Dallas — the first of several grants in southern Dallas to incentivize grocery stores in "food deserts."
Robinson remembers taking her 84-year-old mother to the store when it first opened.
"It started out great," Robinson says, but over the last few years, the store shelves didn't stay stocked and the produce wasn't fresh, she says. Robinson went back to driving her mom 20 minutes away to Cedar Hill, DeSoto or Duncanville to shop for groceries.
In January 2021, Save-A-Lot, since re-named Save-U-More, closed. The store's owner, Joseph Kemp, told Spectrum News the store had closed only temporarily.
"Business is slow due to the pandemic, and this time will be used to find a new operator and make modifications to the facility to increase the shopping of local residents," Kemp told Spectrum at the time.
Now, Kemp — who avoided foreclosure earlier this year — is trying to sell the building. Kemp is a developer and president of KRR Construction in Duncanville. He did not return calls for an interview.
Earlier this year, grocery store executive Jerry Brown offered to consult for Kemp. After being turned down, he now wants to buy the building and use his 20-plus years experience in the grocery industry to create a new type of store that he believes will be sustainable. Brown previously worked as a general manager for Walgreens, Save-A-Lot and Whole Foods Market.
"I would take a Walgreens, Trader Joe's and throw it in this box and then — abracadabra — probably have the perfect model," Brown says.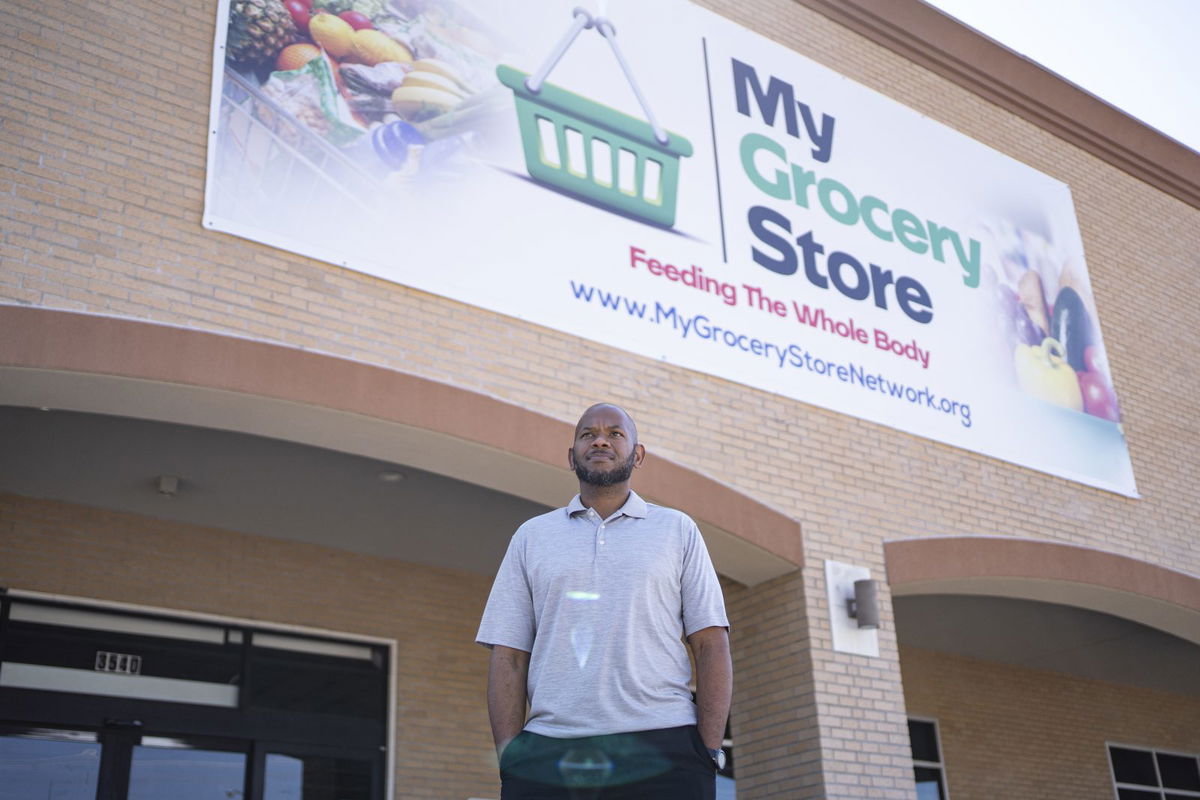 Brown says the average Walgreens is generating around a million dollars a month in revenues through their prescription business. His idea is to create a smaller grocery store that combines a pharmacy and fresh foods market.
"If you combine a prescription business and a small box operation, you have a small sustainable model to be able to fill that gap in food deserts in South Dallas, West Dallas and other rural and urban areas across America," Brown says. "The math shows that these communities need access to prescription medication."
Brown says major grocery chains like Kroger, Walmart or H-E-B aren't willing to invest in building out an entirely new model for a niche market, but it gives smaller entrepreneurs like himself an opportunity.
James McGee, president of Southern Dallas Progress, supports Brown's proposal. He says Brown has been working on this plan for some time, and he has the experience to pull it off.
McGee says Kemp was hesitant because Brown's plan includes selling wine and packs of beer at the store.
"There's a certain type of person that buys a bottle of wine versus a 24-ounce beer," McGee says. "It's just two different types. We will not sell anything below a 6- to 12-pack of beer because that might bring a different type of traffic, frequent traffic, that you don't want."
McGee says they already have a pharmacist on board, as well as urban farmer and community activist Ples Montgomery of the Oak Cliff Veggie Project, plus a person with experience in food logistics and supply chain.
Brown has a small number of investors, and McGee says the rest of the money to buy the property will come from a possible grant from the city and loans. But, Kemp wants more than $2 million for the property, according to a recent commercial listing. The listing, which has since been pulled, described the property as a "Value Add Retail Opportunity. Only grocer in established residential area. Offered below replacement cost. Potential to lease or owner operate."
McGee says a commercial appraiser who knows the Highland Hills neighborhood valued the property at less than a million dollars.
"We don't have to buy the property. That's up to Mr. Kemp. But, if he sells the property, he owes the City of Dallas money," McGee says.
That's because Kemp has five years left on his 10-year contract with the City of Dallas. If he sells the property, he owes them a portion of the $2.8 million grant.
With the city's approval, Kemp could lease the store to Brown, but Brown says he would want to buy the store for market value at the end of the lease. McGee says Kemp rejected that plan.
Meanwhile, a new player has entered the mix.
Bruce Carter, founder of My Grocery Store Network, says he has his own plans for Save U More. He wants this store to be the first of many fresh food markets he plans to create in "food deserts" across the United States.
Carter's banner is hanging on the building, declaring: "My Grocery Store: Feeding the Whole Body."
"The overall goal is to eradicate food deserts across America," he says. "Our goal is 2,500 stores across America. We're going to make sure that people — no matter what their skin color, no matter what their zip code — have access to healthy food options."
McGee says that from his understanding, Carter is "another person coming out of the blue."
Carter was born in Dallas. An '88 graduate of L.G. Pinkston High School in West Dallas, he attended Iowa Wesleyan University and was a two-time All-American football player. Over the last five years, Carter says he traveled across major cities in the country to better understand how to solve problems like crime and poverty in urban neighborhoods.
When he returned to Dallas earlier this year, Carter says he met with Kemp about how he could help Save-U-More. Carter says he understands why Save-U-More failed and believes it wasn't Kemp's fault.
"Why wasn't it successful? It was really simple," Carter says. "When the owner came in, he was a developer. He's not a grocer."
Carter says the $2.8 million grant the city gave to Kemp was never enough to sustain a 15,000-square-foot grocery store. He says a store of that size needed at least $7 million in start-up funds to survive.
"You're talking about a city that lost $40 million of HUD money. You're talking about a city that gives $20 million dollars for bike trails," Kemp says. "So, it's not about the money. It's about the area, and the people who benefit from the money. So, Black people in the southern sector have and always will be the last."
Carter is referring to a 2016 audit that revealed $29 million of HUD money could not be accounted for.
Carter says his approach to creating a grocery store in a food desert is simple. He wants to create "shopping partners" that spend $500 a month of their food stamp dollars at the store.
Carter says most people who live in food deserts receive federal assistance for food. If that money is dedicated to the store, and the families become "shopping partners," the store will be sustainable.
"The Biden administration just did a 25% increase for food stamps across the board," Carter says. "So, that customer has money."
Carter says he is working with nonprofits in the area to help guide their clients to his store. For every dollar the client spends in the store, the nonprofit receives a 3.5% cut.
"So, if you are a small nonprofit, who traditionally gets neglected in this part of town, you're able to bring some people that you serve to us, and every time they shop, we give you a portion of that every month. We believe overall it becomes a win-win for everyone."
Carter already is working with Metropolitan Dream Center, a faith-based organization that helps people who are going through a crisis in their lives.
Carter pitched Kemp his plan to create a model grocery store and says he's paying Kemp $3,000 a month to rent the space as he works to get the City of Dallas on board. Carter says he has submitted an application to the City's Office of Economic Development but hasn't heard anything.
Carter couldn't answer how the food stamp program would actually work. Would the money be taken up front? What's the monthly operating costs for the store? But, he is certain this model of store will work.
"I come to bring a solution, but I also come to speak the truth," Carter says. "I'll put this model up against Kroger's, Walmart's … anyone in America. If you'd rather partner with a corporation that is going to leave a desolate place because there's no reinvestment, then you're going to chase down H-E-B — who is not coming."
Carter says he already has 47 people who have applied for a job at the new store. He promises to pay at least $15 an hour based on the position.
McGee says the city's contract with Kemp shows Dallas has final say as to what happens with the store, including who Kemp chooses to operate the market. The contract stipulates a 10-year period and Kemp's grocery store was open less than five. If Kemp doesn't make a decision soon, McGee says, the city has the right to take back the property.
We reached out several times to the City of Dallas, and no one in the economic development office was willing to be interviewed for this story. Councilmember Tennell Atkins, who fought to bring Save-U-More to Highland Hills, which is located in his district, also declined to be interviewed after multiple requests.
Meanwhile, Highland Hills has been without a grocery store for nine months, and Freda Robinson finds that unacceptable.
"We don't have enough people invested in the community because they don't believe in our community."
This story is part of a project on potential solutions to food insecurity in the neighborhoods of South Dallas and West Dallas. It's reported through a partnership of the nonprofit Dallas Free Press and The Dallas Morning News, with support from the Solutions Journalism Network. For more information, email info@dallasfreepress.com.