We are part of the Trust Project
Co-published by our media partner, The Dallas Weekly
Ken Smith looked up to his Aunt Willie Burke Anderson his entire life.
Anderson was a French and English teacher at Lincoln High School and a world traveler who lived in many countries. It was unique for a Black woman in the '60s to experience the world as she had, Smith says.
"She was just so dynamic," Smith says. "We kids would just be so excited when Willie Burke came to the house. She was very down-to-earth, very practical."
Smith's aunt passed away in 2010. A few years later, Smith found pictures of her, and other members of his family, at his grandmother's house. Although these pictures were not new to him, rediscovering them exhilarated him and reminded him how much he loves his family.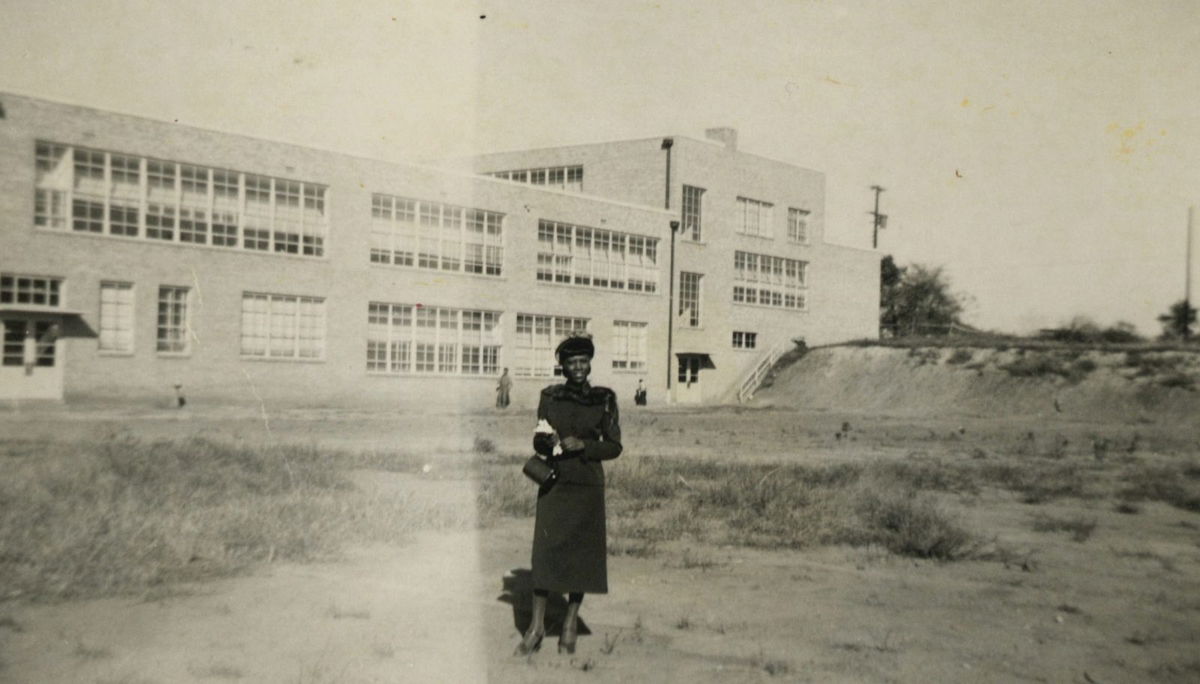 When Smith learned that buildingcommunityWORKSHOP, a community design firm, and the Dallas Public Library system were creating a South Dallas community history exhibit and asking residents to add their items to this archive, Smith knew just what to contribute.
"I can't separate myself from my family, or my community," Smith says. "History is just a way to bring all of this together, to see what we've learned, see what we've lost and see what we need to build."
The South Dallas Community History Exhibit launched this summer as an online exhibit after a year of work. It's one of three community history exhibits that [bc]workshop and Dallas libraries received a grant from the National Endowment for Humanities to create. In summer 2019, community members, like Smith, were invited to visit to one of three different library branches — Martin Luther King Jr, Polk Wisdom or West Dallas — to document and scan their items.
Right now the exhibit is only online, but the original grant funded physical displays as well. Stephanie Bennett, who oversees the library's Dallas history and archive staff, says the plan was to host a physical exhibit at the MLK library from April through June, but the COVID-19 pandemic changed their plans and made things more uncertain.
"We don't necessarily know, given the social distancing guidelines, what we're going to be able to do," Bennett says, adding the hope is for people to view it in person, but the library "might have to push that back further than we anticipated."
The online exhibition points out that the narrative of Dallas and its archive collections "sorely lack information about the complex history of South Dallas and how it has grown and changed alongside the history of white Dallas." The exhibits curated by the library and [bc]workshop aim to bridge that gap and to ensure that the history of Black and Brown communities will be available to future generations.
"This is a new process for us to actually go out and collect information," Bennett says. "Staff would actually sit with each person that brought in items, and help them record the history of each item."
Bennett worked with Shannon Adams, the MLK library branch manager at the time, to bring the South Dallas exhibit to life. Neighborhoods in Dallas such as Lakewood have an abundance of archival items, Bennett says; however, community artifacts are scarcer in South Dallas.
Adams believes this could be because South Dallas residents may be skeptical about how their family's mementoes will be used.
"I can't say that that's the main reason that people didn't show up, but I know that some people didn't show up because they felt like, 'I'm giving all this history, but in the end, is anything going to change?' " Adams says. "Then at the same time, you're dealing with other issues of life. You're not really thinking about bringing historical things to the library."
Today, the Black Lives Matter movement is on the rise, and protests have erupted across the nation following the death of George Floyd while in police custody. Adams believes there's a connection between this movement and community histories — educating Dallas residents about one of its historically Black neighborhoods and opening their eyes to our city's systemic racism.
"The whole education aspect of it is important for people to take the opportunity, if you didn't know before, to learn now," Adams says. "A lot of people of color are upset because of the disparities and in the different injustices and inequalities that people of color have experienced, especially Black people."
Smith says that many don't know about South Dallas' history, including those who live in the neighborhood.
"People in the community now are relatively new, and they have no idea of the history — the rich history that South Dallas has," Smith says. "So, anytime there's an effort to preserve rich history in South Dallas is beneficial for me and for the people here and for people who never lived here."
Smith contributed five photos of his older brother, his uncle and his aunt to the exhibit. Other exhibit items include newspaper clippings of the Metroplex News, a local South Dallas newspaper that published the late 1970s, and a map of South Dallas neighborhoods.
It was Smith's love for his neighborhood that drew him to add his own family items to the community history exhibit.
"I tell everybody, if I had the choice of doing life all over again I would choose the exact same thing," Smith says. "The exact same family, the exact same neighborhood, the exact same community, the exact same schools. I wouldn't change a single thing."