We are part of the Trust Project
Co-published by our media partner, The Dallas Weekly
Wearing colorful masks, groups of children trickle into the empty parking lot near the Frazier community center to check-in to the Frazier Revitalization Pop-Up Camp. As they wait in line, they eye the red and yellow tea-flavored popsicles being handed out by Mind Over Matter Tea and the giant bus labeled "Mobile Learning Lab."
As the pandemic drags on, Frazier Revitalization, a nonprofit organization that invests in South Dallas' Frazier community, has been keeping the kids of the Frazier Townhome neighborhood busy with a pop-up camp. Most summers, their camp is five days a week, but this summer, the camp takes place only once a week on Wednesday mornings.
"Everything is outside based on social distancing guidelines," says Yasmine Lockett, Frazier Revitalization's director of education and engagement. "We just wanted to provide some type of, I want to say, State Fair-esque experience where there are different stations set up with different activities or food."
Although COVID-19 limits social interaction, Lockett says that Frazier Revitalization determined to find ways to engage the children during the summer. At the camp, the preschoolers through 12th-graders do everything from build rockets to dance with a DJ, all while still staying safe.
"We worked with the local business that made reusable masks for us," Lockett says. "We make sure that every child receives one, knows how to properly care for it, wash it, all of those things. Also, we go over sanitizing procedures every time we meet with them."
Frazier Revitalization invited local organizations and small businesses, such as Mind Over Matter Tea, Dallas Innovation Alliance, and Tweeners with Baylor Scott & White, to play a part in the pop-up camp.
Pamela Broussard, a volunteer with Tweeners, says her organization helps children learn about healthy lifestyles. The pandemic is hard on them, she says, because they are stuck indoors.
"We want to take them out of a negative environment and put them in a positive one," Broussard says.
Jen Sanders, executive director and co-founder of the Dallas Innovation Alliance, brought the alliance's new Mobile Learning Lab to camp — a bus with free WiFi for the kids to use. Sanders also had a rocket-building station teach the children about science.
"This camp is amazing, especially right now," Sanders says. "Having a safe opportunity for kids to be out and be social is beneficial."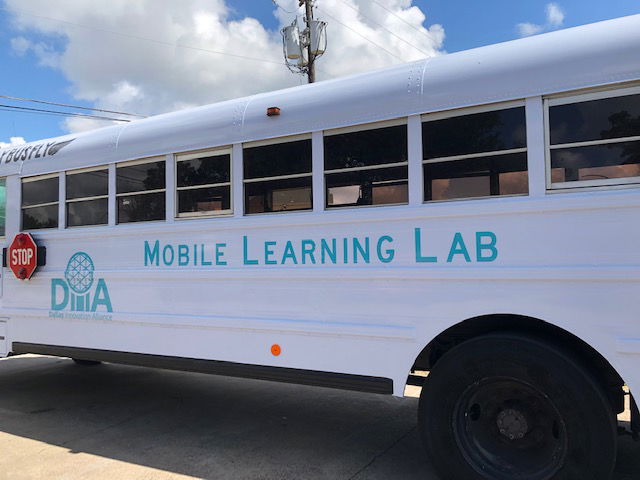 The social interaction has been 11-year-old Kemya Harris' favorite part of coming to the pop-up camp, aside from water activities providing relief from the Texas heat. Ever since school ended, Kemya says, Wednesday mornings are what she looks forward to.
Anyone interested in volunteering with Frazier Revitalization and the pop-up camp can contact Yasmine Lockett at ylockett@frazierdallas.org.