We are part of the Trust Project
Last year, South Dallas resident Christopher McNeil heard about a solar installation training program through Green Careers Texas from a friend. After attending a two day course this March, McNeil started a full-time job at Independent Green Technologies.
"It seemed like something that fit me and interested me," McNeil says. "I'm a person who wants to expand my horizons and incorporate it into something. Solar kind of seemed like the place."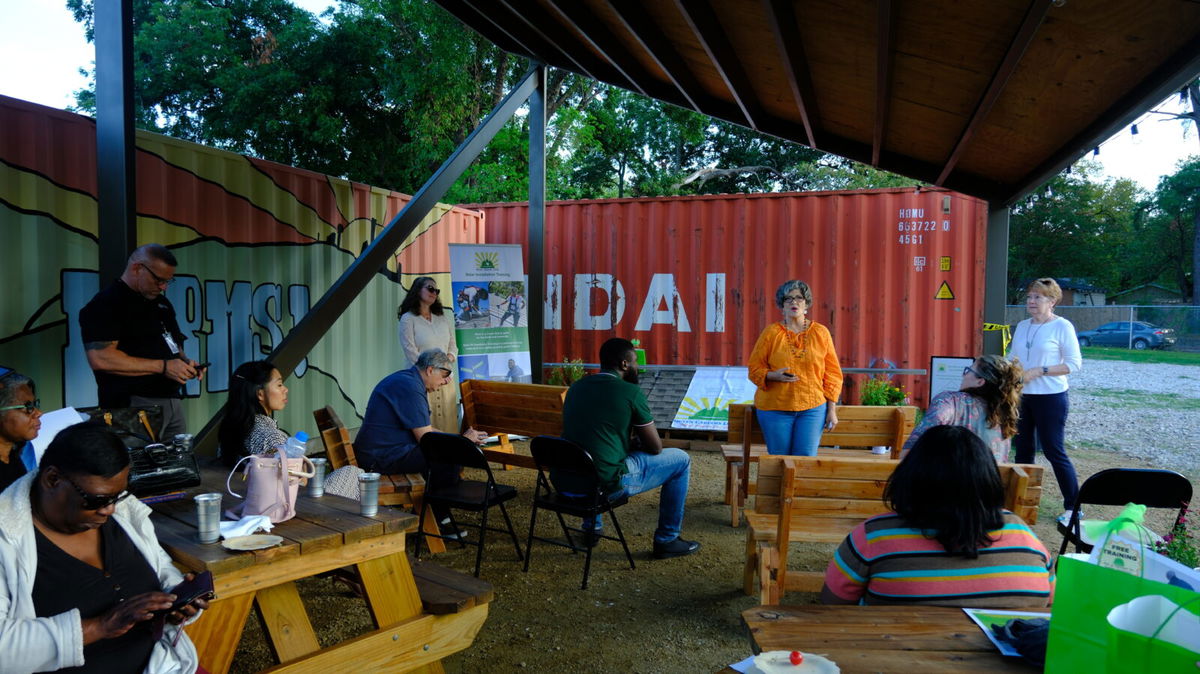 Last week, Green Careers Texas (GCT) celebrated the opening of the organization's first training site on the rooftop of a building at the intersection of Todd Street and Bertrand Avenue in South Dallas. McNeil was there with his brother, who plans to enroll in an upcoming training.
Founded in 2016, Green Careers Texas focuses on "disrupting poverty through green career training" in solar installation as a pathway to living wage work.
"Every day, for the last seven years, it is what I wake up thinking about and go to bed thinking about, so I am just really hooked," founder and executive director Tracy Wallace says.
Wallace, who lives in Dallas, says that the organization's mission addresses social, economic, and environmental injustice all at once. Since its first training held at the Martin Luther King Jr. Community Center in 2017, the organization has provided training for more than 100 Dallas residents. According to the organization's website, GCT has a 60 percent job placement rate and partners with companies such as Independent Green Technologies, Freedom Solar Power and MM Solar Advisory.
The starting salaries for the jobs range from $16 to $19 per hour, and most companies provide a 401K savings plan and health insurance.
The hands-on training occurs over the course of two days where participants are taught about the basics of solar energy, installation techniques and safety measures. Trainees also earn an OSHA 10 safety certification, in addition to job placement assistance.
The solar panel training site, or microgrid, was constructed after two years of fundraising efforts along with donated equipment from Solar Edge, says Wallace. The site neighbors Hatcher Station Farm, which is a project of Restorative Farms that aims to provide access to fresh produce in under-resourced urban areas. The solar microgrid will generate power to support the farm's operations.
Derek Avery, a GCT board member, mentors some of the program's trainees.
"When you see someone who looks like you, it makes a big difference," says Avery, who is Black, like 65% of South Dallas residents. "Especially, a living example."
Avery says that grassroots initiatives such as GCT have a direct impact on the lives of residents.
"This is actually the type of economic development which actually touches us," he says.
Currently, Texas is one of the leading adopters of solar energy, but it continues to face legislative hurdles.
"The wheels have finally come off the ground for solar in North Texas, " Wallace says, "however, there are other states that have really incentivized the process, and it really makes all the difference."
Despite this, GCT is not deterred from continuing its mission.
"Despite the policy culture at the state level, solar has grown by leaps and bounds every year," Wallace adds.
GCT continues to expand its training program to community members as well as high school students enrolled in Dallas ISD's Career Technology Education (CTE) program.
The impact of these community-based initiatives is spreading already. Longtime South Dallas resident Wanda Jo Taylor lives across from the garden and solar installation training site.
"They are helping the community with the panels and garden they have out here," Taylor says. "It is a blessing for them to come back into this neighborhood and reach out to help us."