We are part of the Trust Project
For some West Dallas families, hotspots loaned from the Dallas Public Library are their primary connection to the internet. Carlos Flores, manager of the Dallas West Branch Library, says neighbors often hold on to the hotspots, checking them out over and over again. Many of them are children who don't have wired internet at home, he says.
"I have parents coming in and apologizing," Flores says. "They're like, 'We just needed it. There was no other option,' because they didn't have internet access."
More than two years after the Dallas Public Library added laptops and hotspots to its circulation catalog, they're still in high demand. Nearly 200 people sit on a waitlist for one of the library's laptop or Chromebook bundles that come with a hotspot for wireless internet connection. For people wanting just a hotspot, however, the library has hundreds available.
The DPL Technology at Home program launched in February 2020 — coincidentally, a month before the pandemic began — to be a bridge in the digital divide for neighborhoods lacking reliable and accessible internet. The library designated both the Dallas West branch in West Dallas and the Martin Luther King branch in South Dallas as distribution locations.

Earlier this year, the library's catalog showed zero hotspots available with more than a thousand in circulation. There was a lot of "wear-and-tear," on the original 3,000 hotspots acquired in February and September 2020, says Sallie Lockhart, manager of library information technology for the Dallas Public Library system.
But recently, the library obtained new hotspots and bundles to replace overused, damaged or lost devices initially acquired two years ago.
"The system has already changed for customers to be able to place holds on these new items," Lockhart says. "There is almost no wait time for the new hotspots. Just simply because we are going to have so many [to] go out at once."
She says 2,400 hotspots have been injected into the system:
There are 1,500 individual hotspots available.
Another 800 hotspots are for Dell laptop bundles.
Another 80 hotspots are for Chromebook bundles.
There are 20 hotspots reserved for backstock or replacement needs.
Though the library catalog shows only 19 Dell laptop bundles and 35 Chromebook bundles currently available, Lockhart says the new bundles will be added to the system over the next several weeks to months.
Dallas West and the MLK Branch Library are some of the higher circulating branches in the library system and are prioritized for hotspot check out services, Lockhart says. All of the hotspots are equally distributed to the designated library branches based on holding request queues.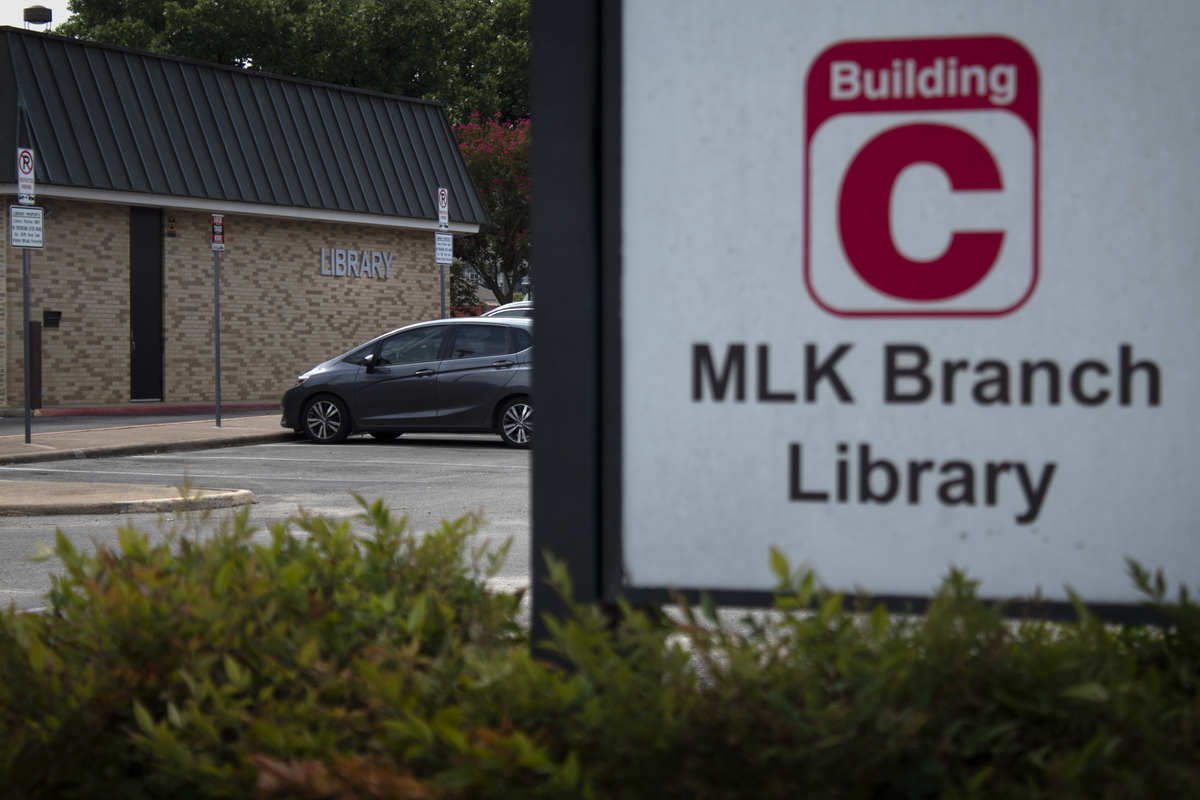 The Dallas Public Library recently changed its system so that items checked out are automatically renewed, unless another cardholder has requested it. So neighbors with a library card can check out a hotspot or bundle package for 30 days and go through the same return, auto-extension and holding protocol as any book or movie.
In West Dallas' 75212 ZIP code, 30 percent of households with children live without broadband internet access at home, according to The Commit Partnership map of internet disparities access across Texas. Broadband is the connection and transmission to high-speed internet.
This lack of connectivity means that families who hold onto library hotspots, "to me, I feel like part of it [is] justified," Flores says.
South Dallas' highest rate of internet disparity is in the 75215 ZIP code with 53 percent of households with children lacking broadband internet.
Michel Diego Osornio Miranda became the MLK library branch interim manager three months ago, and more recently the manager. He has not seen any customer frustration with the DPL Technology at Home program because residents understand it is like waiting for a book or movie. Miranda also has taken other actions to address South Dallas' digital divide.
"We have increased our one-on-one computer classes from one day a week to four days a week," Miranda said. "On our busiest days, we do four hours of one-on-one help with our patrons. The rest of the week, we do a one hour segment where patrons can go ahead and come to us to receive assistance one-on-one."
The MLK branch also partners with the South Dallas-based CARDBoard Project on Saturdays in its Empowerment Pop-ups that offer computer assistance and computer skill classes.
Before the library system acquired the new devices, another challenge that "compounded circulation" of hotspots was the T-Mobile US Inc. and Sprint Corp. merger that occurred in April 2020, — resulting in shutting down Sprint towers that were used to connect the first round of hotspots, Lockhart says.
"Working with [T-Mobile] to move to the new hotspots and new network took some time and meant that we didn't have funds," Lockhart says. "We didn't have a lot of leeway to really get those replacements back out. We're actually very excited that we're able to put this new technology out and resolve a bunch of these connection issues."
The library system has two pillars that it upholds to serve Dallas residents: the right to privacy and access to resources, Lockhart says.
"It used to be a lot simpler" with just books in circulation, Lockhart says, but "now, we are fighting the digital divide" to provide internet connection for residents because it, too, "is a resource."